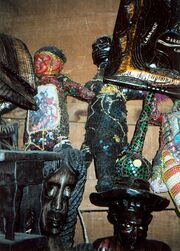 El termino "Yuyu" se emplea para denominar a las prácticas de carácter mágico-religioso procedente de la religión del África Occidental. También se refiere al uso de objetos para realizar actos mágicos o de brujería.
El objeto adorado en cuestión puede ser de cualquier tipo, lo importante es que sea adorado por las etnias nativas y que sea usado para encantamientos o como medio de fetiche y de protección o bien como una prohibición. Tradicionalmente, las etnias nativas también realcionan estos muñecos con el alma de una persona en cuestión, de manera que todo lo que les pase a los fetiches les sucede a la persona que representa, para ello se les suele clavar abujas o aplicarle algún tipo de martirio con el fin de intentar torturar o manipular a la persona, es utilizado fundamentalmente como un método para coartarla y restringirla.
Ad blocker interference detected!
Wikia is a free-to-use site that makes money from advertising. We have a modified experience for viewers using ad blockers

Wikia is not accessible if you've made further modifications. Remove the custom ad blocker rule(s) and the page will load as expected.