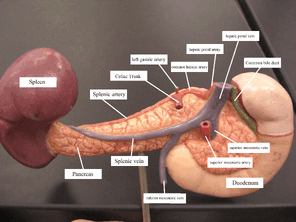 La vena porta es el vaso sanguíneo más importante del hígado y se le suele llamar vena porta hepática. La vena se encuentra exactamente entre los músculos de la superficie interior del hígado.
Es una vena muy gruesa (mide entre 10 y 20 mm de diámetro en adultos) cuyo sistema está interpuesto entre dos redes capilares opuestas. La vena se considera una glándula de secreción interna por la cantidad de modificaciones que recibe la sangre en el hígado. Su función principal es transportar la sangre desoxigenada de los órganos digestivos y el bazo hacia el hígado y así llevar los nutrientes al hígado para que los metabolice.
Ad blocker interference detected!
Wikia is a free-to-use site that makes money from advertising. We have a modified experience for viewers using ad blockers

Wikia is not accessible if you've made further modifications. Remove the custom ad blocker rule(s) and the page will load as expected.