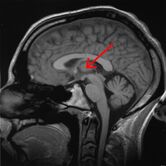 Es una parte del encéfalo (zona media del cerebro), concretamente la parte más grande del diencéfalo. Es el lugar donde se unen cerebro y médula.
Está compuesto por dos partes o masas de sustancia gris encargadas de recibir las señales sensoriales, además de ser a donde pasan las señales motoras de salida desde la corteza cerebral.
Ad blocker interference detected!
Wikia is a free-to-use site that makes money from advertising. We have a modified experience for viewers using ad blockers

Wikia is not accessible if you've made further modifications. Remove the custom ad blocker rule(s) and the page will load as expected.