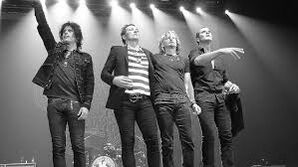 Es un banda estadounidense de rock formada en el año 1990 en San Diego, Estados Unidos.
En sus inicios estaba compuesta por Scott Weiland, el cantante fallecido el pasado 3 de diciembre, los hermanos y guitarristas Robert DeLeo y DeanDeLeo y el baterista Eric Kretz.
Este grupo se ha convertido en uno de los más notables de la década de los 90, junto a grupo de la talla como Blur, Nirvana o Soundgarden, enmarcados en la tendencia conocida como "gruge", cuyas características eran las guitarras distorsionadas, las melodías con sonidos graves y gruñidos del rock duro y baterías predominantes que le han hecho conseguir un total de tres premios:
- El de MTV Video Music Award por Mejor Artista Nuevo (Best New Artist) en el 1993.
- El de American Music Award por Nuevo Artista Favorito de Rock/Pop (American Music Award for Favorite Pop/Rock New Artist) en el 1994.
- Grammy por Mejor Interpretación de Hard Rock (Best Hard Rock Performance) en 1994.
Ad blocker interference detected!
Wikia is a free-to-use site that makes money from advertising. We have a modified experience for viewers using ad blockers

Wikia is not accessible if you've made further modifications. Remove the custom ad blocker rule(s) and the page will load as expected.