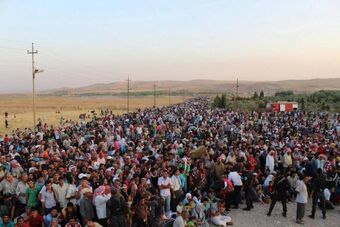 Se trata de aquella persona que, debido a las guerras, a revoluciones o persecuciones, se ve obligada a buscar refugio fuera de su país de origen. El término fue establecido en 1951 en la Convención sobre el Estatuto de Refugiados de las Naciones Unidas.
La tarea de redistribución, repatriación y reasentamiento de los refugiados lo lleva la Oficina del Alto Comisionado de las Naciones Unidas para los refugiados (ACNUR), en funcionamiento desde el 1949, cuyo objetivo reside en asegurar que el refugiado sea admitido en el país de refugio, que le sea dado un hogar y que no sea devuelto a su país natal por las autoridades del país
Ad blocker interference detected!
Wikia is a free-to-use site that makes money from advertising. We have a modified experience for viewers using ad blockers

Wikia is not accessible if you've made further modifications. Remove the custom ad blocker rule(s) and the page will load as expected.