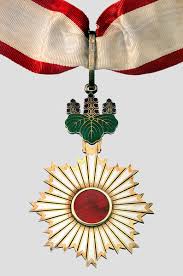 Se trata de un premio de carácter honorífico que entrega Japón a las personas que hayan alcanzado logros en las relaciones internacionales, como en el desarrollo de la ciencia o de la tecnología, la promoción de la cultura japonesa, el desarrollo del bienestar o el mantenimiento y la preservación del medio. Es un premio que se puede conceder tanto a los japoneses como a los no japoneses. Actualmente existen seis tipos de grados de condecoración en orden decreciente que van desde el primero (el más alto) hasta el sexto (el más bajo), al abolirse el séptimo y el octavo grado en 2003.
Ad blocker interference detected!
Wikia is a free-to-use site that makes money from advertising. We have a modified experience for viewers using ad blockers

Wikia is not accessible if you've made further modifications. Remove the custom ad blocker rule(s) and the page will load as expected.