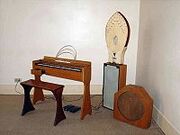 Se trata de un instrumento electrónico creado en el año 1928 por Maurice Martenot, un compositor e ingeniero francés. El instrumento en sí está compuesto por un teclado, un generador de baja frecuencia y un altavoz que produce un tipo de vibración monofónica, es decir, sin producir notas simultáneas.
Ad blocker interference detected!
Wikia is a free-to-use site that makes money from advertising. We have a modified experience for viewers using ad blockers

Wikia is not accessible if you've made further modifications. Remove the custom ad blocker rule(s) and the page will load as expected.