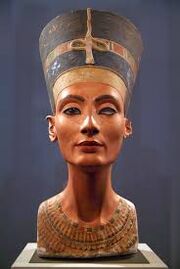 Fue una reina de Egipto entre los años 1370 y 1330 a.C, esposa del rey Akenaton (Amenofis IV)  y perteneciente a la dinastía XVIII de Egipto. Fue hija del faraón Ay , que sucedió en el trono a Tutankamon tras la muerte de este.
Desaparición 
Dese hacia varios años, arqueólogos han tratado de buscar la tumba de la faraona, como el parisino Victor Loret, que encontró una momia en 1898 en el Valle de los Príncipes a la que apodo "The Younger Lady", actualmente conservada en el Museo de Egipto. Aunque no se sabe a ciencia cierta si puede o no tratarse de los restos de Nefertiti, lo claro está que a través de las pruebas de ADN que realizaron, pudieron confirmar que "The Younger Lady" era la madre de Tutankamón, la cual tuvo hijos con Akentaon, que era el marido de Nefertiti.
A pesar de esto, todavía no se ha hayado la tumba de la faraona y actualmente se desconoce la ubicación, ya que en junio de 2003, Zahi Hawass, el antiguo director del Consejo Superior de Antiguedades de Egipto, desmintió que los restos hayados en el Valle de los Principes pertenecieran a Nefertiti, debido a la falta de pruebas que determinaran su veracidad.
Ad blocker interference detected!
Wikia is a free-to-use site that makes money from advertising. We have a modified experience for viewers using ad blockers

Wikia is not accessible if you've made further modifications. Remove the custom ad blocker rule(s) and the page will load as expected.