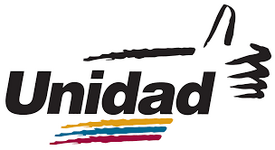 Denominada Mesa de la Unidad, MUD, Unidad Democrática o Unidad. Se trata de una coalicción de partidos políticos venezolanos que hacen oposición democrática al Partido Socialista Unido de Venezuela, así como a sus aliados del Gran Polo Patriótico. Es una unidad de partidos cuya tendencia es socialdemócrata, progresista, laborista, democristiana y centrista.
Su fecha de creación fue el 23 de enero de 2008, en Caracas, mediante un documento llamado Acuerdo de Unidad Nacional. Actualmente, es la principal organización política de la oposición teniendo en cuenta las últimas elecciones.
Ad blocker interference detected!
Wikia is a free-to-use site that makes money from advertising. We have a modified experience for viewers using ad blockers

Wikia is not accessible if you've made further modifications. Remove the custom ad blocker rule(s) and the page will load as expected.