Manuel Carlos Valls Galfetti (Barcelona, 13 agosto de 1962), más conocido como Manuel Valls, es un político francés nacido en España. Desde el 31 de marzo de 2014 desempeña las funciones de Primer ministro de francia, puesto que ocupó en el gobierno de François Hollande tras la domisión de Jean-Marc Ayrault.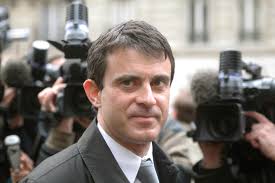 Fue Ministro de Interior de Francia, Alcalde de Évry (actualmente concejal, desde 2001) y Consejero regional de la Isla de Francia. Desde 2002 es diputado en la Asamblea Nacional de Francia.
Ad blocker interference detected!
Wikia is a free-to-use site that makes money from advertising. We have a modified experience for viewers using ad blockers

Wikia is not accessible if you've made further modifications. Remove the custom ad blocker rule(s) and the page will load as expected.