Los manglares son bosques o formaciones de árboles capacitados para adaptarse a terrenos parcialmente inundados o con posibilidad de inundarse por completo. En el caso de los manglares marinos son aquellos casos en los que los árboles y plantas del bosque se encuentran inundados o cubiertos por agua casi en su totalidad.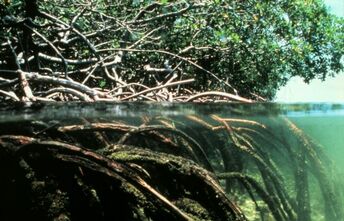 Son comunes en las zonas costeras de las regiones tropicales y subtropicales principalmente. Pueden estar en contacto directo con el mar, junto a las riberas y desembocaduras de los ríos, o bordeando lagunas costeras.
Los manglares tienen su propio ecosistema, el cual es muy complejo, tiene una enorme biodiversidad de
gran valor y utilidad para el hombre cuando son preservados y explotados de forma sostenible.
Ad blocker interference detected!
Wikia is a free-to-use site that makes money from advertising. We have a modified experience for viewers using ad blockers

Wikia is not accessible if you've made further modifications. Remove the custom ad blocker rule(s) and the page will load as expected.