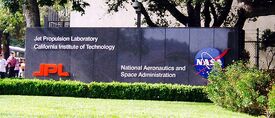 Laboratorio de Propulsión a Chorro (en inglés: Jet Propulsion Laboratory, JPL) es un laboratorio que se encuentra en una zona cercana a Los Ángeles, en el Estado de California (Estados Unidos), donde entran en juego la ciencia, la tecnología y la ingeniería de una forma especial para construir exploradores espaciales con tecnología robótica que se envían a todos los lugares del Sistema Solar e, incluso, de La Vía Láctea.
Produce sus máquinas para la NASA, aunque está financiado y gestionado por la empresa Caltech. Sus científicos examinan los datos y muestras recogidas por las máquinas enviadas para seguir descubriendo nuevas aportaciones que expliquen la formación y evolución del universo, el sistema solar, y la vida.
Sus orígenes se datan en 1930 cuando se comenzaron a realizar propulsiones de cohetes en experimentación, en el Laboratorio Aeronáutico Guggenheim, que sería después el emplazamiento del JPL, cuyo cambio de nombre se produjo en 1944.
Ad blocker interference detected!
Wikia is a free-to-use site that makes money from advertising. We have a modified experience for viewers using ad blockers

Wikia is not accessible if you've made further modifications. Remove the custom ad blocker rule(s) and the page will load as expected.