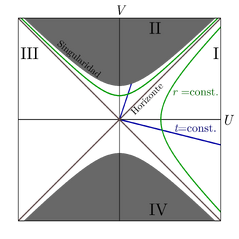 El horizonte de sucesos es un concepto relacionado con la relatividad y la física cuántica, referido a una superficie enorme que se encuentra en la frontera del espacio-tiempo, de forma que los sucesos que se producen a un lado de ella no pueden afectar a un observador situado al otro lado.
Hay diferentes tipos de horizontes de sucesos según en qué circunstancias ocurran:  horizontes de Cauchy, horizontes de Killing, horizontes de partícula u horizontes cosmológicos.
Ad blocker interference detected!
Wikia is a free-to-use site that makes money from advertising. We have a modified experience for viewers using ad blockers

Wikia is not accessible if you've made further modifications. Remove the custom ad blocker rule(s) and the page will load as expected.