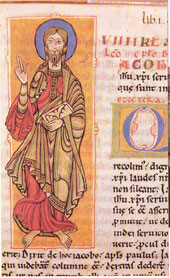 Se trata de un manuscrito ilustrado donde se incluye el texto más antiguo del Liber Sancti Iacobi, una recopilación de escritos pertenecientes a la primera mitad del siglo XII en el que aparecen las misas, los sermones, los milagros, los oficios y los cantos al Apóstol Santiago. En el cuarto libro del Códice, aparece el descubrimiento de la tumba de Carlomagno y en el quinto aparece una especie de guía para los peregrinos que deseen realizar el Camino de Santiago donde se muestran descripciones de la ruta y las formas de vida de los pueblos que se observan al realizar el camino.
Actualmente se conserva en la Catedral de Santiago de Compostela.
Robo del libro
El Códice Calixtino fue robado concretamente el 5 de julio de 2011 por un electricista que trabajaba en la catedral y posteriormente recuperado por las autoridades locales, el 4 de julio de 2012. 
Ad blocker interference detected!
Wikia is a free-to-use site that makes money from advertising. We have a modified experience for viewers using ad blockers

Wikia is not accessible if you've made further modifications. Remove the custom ad blocker rule(s) and the page will load as expected.